Each and every Elan ski bears the inscription "Handcrafted in the Slovenian Alps". It's a symbol of pride and these words say it all. Mountains are a permanent source of inspiration for all skiers, especially for those who fall in love with skiing so much that they dedicate their life to making new, better, and more capable skis. Extraordinary innovations Elan has launched over the past three decades, aimed at helping skiers around the world enjoy their sport more than ever before.
Begunje na Gorenjskem is a small town, but only in terms of physical size and population. In the ski world however, Begunje is a capital city, a metropolis of ski innovation. The inventions developed here, and launched to improve the skiing experience, are too numerous to count. Each time a breakthrough product is presented, people have said "This is it! It can't get any better than this." And each time the engineers at Elan develop something new, better, and even more efficient. This cycle has continued for decades. It has become so reliable, that it warrants an anthropological study. One fact is clear: Begunje is home to ski enthusiasts who explore, experiment, and invent with a clear passion and love. It is hard to pinpoint why this is. Over the past decades the tiny town has accumulated incredible creative energy that now serves as a perpetual source of progress and innovation.
It is likely that the magical Slovenian mountains have something to do with it. The windows of the Elan factory frame a magnificent view of the Julian Alps and on a clear day Mount Triglav seems just a stone's throw away. These mountains are an inspiration for anyone who loves skiing. For the people at Elan, they are also a testing lab. The connection between mountains and people is so close, that it's hard to say whether the mountains were created for their skis or vice versa. But that doesn't really matter. What's important is that the mountains, skis, and people of Elan work together in perfect harmony.
Love for the Mountains
The entire engineering and development team at Elan shares a deep and true love for the mountains. Marko Kozjek is a proud member of that team.
"The mountains are a dialogue with yourself in stunning surroundings. It is where you go to think about what you do and will be doing in the future. The unattainable terrain of the mountains has always had a certain mystic appeal, and when you reach a summit, you experience an immense sense of accomplishment. There are no bad thoughts up there. I can climb the same mountain and walk the same trail many times, but the moment is always different because nature is never the same and always offers something new. For me the mountains are a combination of meditation and a test of physical endurance," says Kozjek.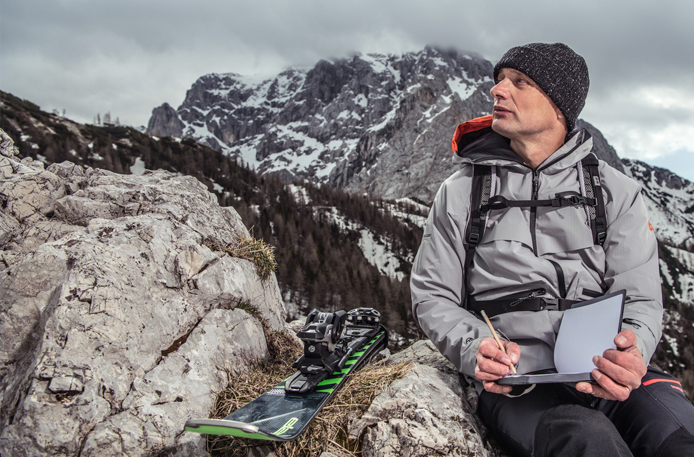 Innovations and Inner Peace
When we talk about innovations in the plural, we should mention some rather complex motivation processes they are associated with. In the absence of such processes innovations usually stay in the singular. "We must always encourage our brain to take on new ways of thinking. New viewpoints and aspects help immensely, as do changes in the environment. It has happened to me several times, working at my desk, desperately looking for a solution and getting nowhere. Instead of laboring on in the same cycle, I got up and went outside and the closeness of nature had a profoundly positive effect on my mental processes. The right solution presents itself, on its own," says Kozjek, who is a master of making things by hand. Not only can he make his own skis, but he also has his own workshop and lathe, and has made just about every piece of furniture in his home, from the bed to the dining room table. He has also built his own solar power plant and plenty of attachments for his tractor. Marko is a trained aerospace engineer and a master of making ideas come to life. This is his major advantage. It is one thing to have an idea, but something completely different to actually bring it to life. He can do both. His job is dedicated to adjusting tiny details and it is these small changes that make the decisive difference.
Attitude Toward Craftsmanship
The term "handcrafted" is often abused these days. It is very important that doing things by hand actually enhances the quality of a product. There is always a balance to be found in which products are appropriate for making by hand and which are not. It is abundantly clear that making hundreds of thousands of mass-produced items by hand, makes no sense. Any approach to making things by hand must consider all the limitations, adjust, and find new solutions. "We purposefully plan products in our segment so that they can be enhanced by manual labor. This requires a certain amount of thought by both the engineers and those who make the products. I spend a lot of time in manufacturing, working closely with the people that make our products with their hands and when we put our minds together, we often find a few more details that can be improved further," adds Kozjek. Craftsmanship is also an expression of the coordination, trust, and close connection of all the people involved in the process of making skis. That is why Elan skis proudly bear the inscription "Handcrafted in the Slovenian Alps". "I can safely say that at least sixty percent of the manufacturing process of our skis is still done by hand. There is definitely more manual labor involved than machines. In our case the word "handcrafted" is much more than just a fancy sounding concept. It is our way of thinking, our life, and our pride. I am sure it is a part of everything that we create," says Marko with a satisfied smile.