75 years is a long time. Over the three quarters of a century, the world has seen historic landmarks, life and society have changed beyond recognition. It is a similar story with skis. They have changed profoundly. We must only look at the legendary partisan skis, hand curved by Rudi Finžgar, and compare them to a new set of Amphibio skis to see the immense progress skiing has seen over time.
Elan has always been a driving force behind these changes. That is why the company has earned the reputation as the ultimate innovator that continues to change skiing. It is almost impossible to count all the inventions and innovations that were born in Begunje. Elan's products were always ahead of their time, giving those in the know a glimpse into the future.
1945
In 1945 Rudi Finžgar and nine other visionaries founded the Elan ski company, with the aim to always bring good times to skiers, all over the world. Rudi, the founder of Elan, did things that others could not even dream of. He saw far into the future, and he had no fear. He knew anything was possible. Above all, he loved winter, snow, skiing, and especially ski jumping. In September 1945, the Elan Sports Equipment Production Cooperative was born. Finžgar's influential vision is perhaps the greatest reason why the Begunje factory was never short on innovation. Elan's development institute soon earned the reputation as a trendsetter in the ski industry, releasing countless inventions that changed skiing forever. "Who can think of sleep, or money? The world is waiting for me and for Elan." -Rudi Finžgar
1950
s
In 1953 the company dispatched 500 pairs of alpine skis to New York, USA. Today, Elan is present throughout five continents and 50 markets. If you add the length of all the skis Elan has produced in its 75 years, they reach halfway to the moon.
1960
s
The 60's were defined by continued expansion of the company's product range. Elan's most important products of this decade were skis, small sailing yachts and other boats, and equipment for sports facilities. Elan also manufactured tennis and badminton rackets, table tennis equipment, icepicks, mountain rescue gear, backpacks, and sports jackets. The company's brand-name also encompassed racing and recreational sleighs and hockey sticks. Elan's product range was further enriched by the manufacture of oars and water skis.

In 1963, Elan was the first ski manufacturer in the world to introduce screen printing technology to decorate the top sheets of skis; first accomplished on plastic and later metal as well. Setting the trend, screen printing became the standard in the ski industry. In the same year Elan's Development institute was founded, which profoundly contributed to continued innovations and trendsetting.
1970
s
Elan began to solidify its status as an innovation-based brand, while making its presence felt on the winner's podium, thanks to the exceptional talent of a young Swede by the name of Ingemar Stenmark. The seventies were breakthrough years for our Begunje based company. This period is when Elan began to pave its way towards international glory by establishing a reputation for being an innovative ski brand. The Uniline ski, a true revolution, which featured extreme sidecut for the time was introduced. This model was prized by racers, including Stenmark, who used them for both slalom and giant slalom.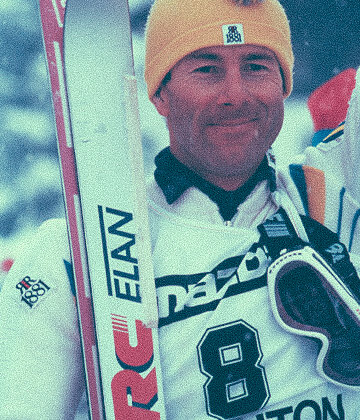 1980
s
The eighties were an incredibly fruitful era for Elan, especially in terms of success in competition. Slovenians have always been a skiing nation. For us, skiing is a special sport. But we never loved skiing as much as we did in the eighties, not before, nor since. The love grew far beyond the boundaries of sport. We could even say that skiing "on the sunny side of the Alps" grew to enormous proportions. Elan was more than just a trademark. It was a national pride, a symbol. It was like a flag.
1990
s
Elan redefined skiing in the nineties with the introduction of the MBX, the first cap construction ski on the market, and later with the SCX which debuted extreme sidecut to skis, forever changing the skiing landscape. It was a decade of great changes in many areas throughout the world, in Europe, Slovenia and in Elan. Until the early nineties, we skied on classic two-meter-long skis. Nobody thought that we would derisively call them pikes and laugh at them just a few years later. And the revolution was spearheaded by Elan. We can call it carving, deep sidecut skis, butterfly, or flipper skis. It doesn't really matter. The fact is, as many times before, the new industry standards were created in Begunje. It is a fact that no other innovation changed skiing as profoundly as the new geometry of these skis.
2000
s
Experiencing the breakthrough of the millennium is a special privilege only a few generations have experienced. When Elan launched the carving revolution, ski length suddenly became just a consequence of radius and sidecut. Shapes became radically different as well. Skiing suddenly became the source of a whole new range of feelings. Skiing down groomed pistes felt like riding a rollercoaster, with the tracks left by the skis resembling railway tracks. Yes, carving is just like skiing on rails. Thanks to innovations like the Fusion system, the world's first integrated ski and binding system and WaveFlex technology, skis could be soft longitudinally and torsionally stiff and stable, making skis easier to control while improving performance.
2010
s
Once again, Elan proved to be an ultimate skiing innovator. Its products were awarded with numerous technology and design awards around the globe. It is also the period when the revolutionary Amphibio technology was launched. This unique solution, based on a dedicated left and right ski that combined rocker and camber enabled unparalleled performance of skis. Amphibio technology was acknowledged by skiing experts, becoming the most awarded ski technology in the industry.

Elan presented another remarkable innovation – the Folding ski. Making a ski that folds in half without sacrificing its fundamental characteristics was an impossible task, until now. Elan created a foldable ski with high-end ski performance and zero limitations of movement. It easily attaches to a pack quickly and securely making the skis easy to transport and deploy in hard to travel terrain, be it through an airport or a couloir in the Julian Alps. In 2018, Elan became the first ski company with its own museum, allowing guests to take a stroll down memory lane to see Elan's evolution and deeply rooted Slovenian heritage.
2020
s
The development of Connect technology has given us the world's first fully functional, folding, all-mountain ski - the Elan Voyager. It's designed to fit the needs of the traveling skier, that is passionate about striking a balance between a busy schedule and a healthy lifestyle. Voyager's design and innovation were soon recognized by the world, earning the ISPO Gold Award, the title Product of the Year, plus X and six other "quality seals", the Red Dot Award for design with the venerable title "Best of the best".